Boys Volleyball 2020 Tryouts
2021 City Beach Boys Team Tryouts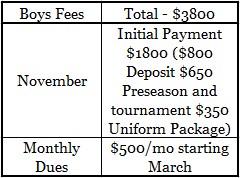 All dues are non refundable
We are not charging you for the preseason training, and as a result are taking off $650 from the deposit amount that you will find on the offer letter and information that you received at tryouts a reduced deposit of $1150.
Due to the current situation, we will collect paperwork digitally. Please send your paperwork to sarah@citybeach.com with your team name and player name in the subject line.
If you are not interested in a team but still want to find Camps and Clinics for Boys.
Age Definitions for the 2020-21 season.
18 and Under Division: Players who were born on or after July 1, 2002
17 and Under Division: Players who were born on or after July 1, 2003
16 and Under Division: Players who were born on or after July 1, 2004
15 and Under Division: Players who were born on or after July 1, 2005
14 and Under Division: Players who were born on or after July 1, 2006
13 and Under Division: Players who were born on or after July 1, 2007
12 and Under Division: Players who were born on or after July 1, 2008
11 and Under Division: Players who were born on or after July 1, 2009