Boys Volleyball 2021 Schedule and Dues
Schedule
Boys Jr. Far Western – May 8-9, 2021 @ Reno Convention Center www.ncva.com
The West Coast Classic – June 11-13, 2021 @ Anaheim Convention Center www.scvavolleyall.org
Boys Jr. Nationals Division  – June 30-July 7 @ Kansas City, MO (Please check your age group) www.usavolleyball.org
Note:  NCVA Boys Power League – Postponed
2021 City Beach Boys Team 
Club Dues
All payments this season will be done on a monthly schedule. Club dues will include all training March through May or June, coaches salary, administration, insurance, and NCVA Tournaments.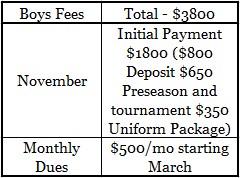 All dues are non refundable
We are not charging you for the preseason training, and as a result are taking off $650 from the deposit amount that you will find on the offer letter and information that you received at tryouts a reduced deposit of $1150.
Due to the current situation, we will collect paperwork digitally. Please send your paperwork to sarah@citybeach.com with your team name and player name in the subject line, by 9:00pm, Tuesday, November 17. You can find the entire list of required documents on the offer letter you received at tryouts and via email.  Please also complete the online registration if you have not already.
Age Definitions for the 2020-21 season.
18 and Under Division: Players who were born on or after July 1, 2002
17 and Under Division: Players who were born on or after July 1, 2003
16 and Under Division: Players who were born on or after July 1, 2004
15 and Under Division: Players who were born on or after July 1, 2005
14 and Under Division: Players who were born on or after July 1, 2006
13 and Under Division: Players who were born on or after July 1, 2007
12 and Under Division: Players who were born on or after July 1, 2008
11 and Under Division: Players who were born on or after July 1, 2009